ITS Testfield Merzig (ITeM) offers a platform for research, development, testing, and evaluation in the field of Intelligent Transportation Systems (ITS) under real-world conditions. ITeM has been functioning in Merzig since 2014. In 2020, several intersections were equipped with ITS infrastructure components in Saarbrücken, the capital of Saarland.
The framework of ITeM includes components for connected driving, namely wireless communication between vehicles and their surroundings (Vehicle-to-Everything – V2X or Car2X), including communication between vehicles (vehicle-to-vehicle – V2V or Car-to-Car – C2C) and between a vehicle and road infrastructure (vehicle-to-infrastructure – V2I or Car-to-Infrastructure – C2I), as well as pedestrian and traffic cameras.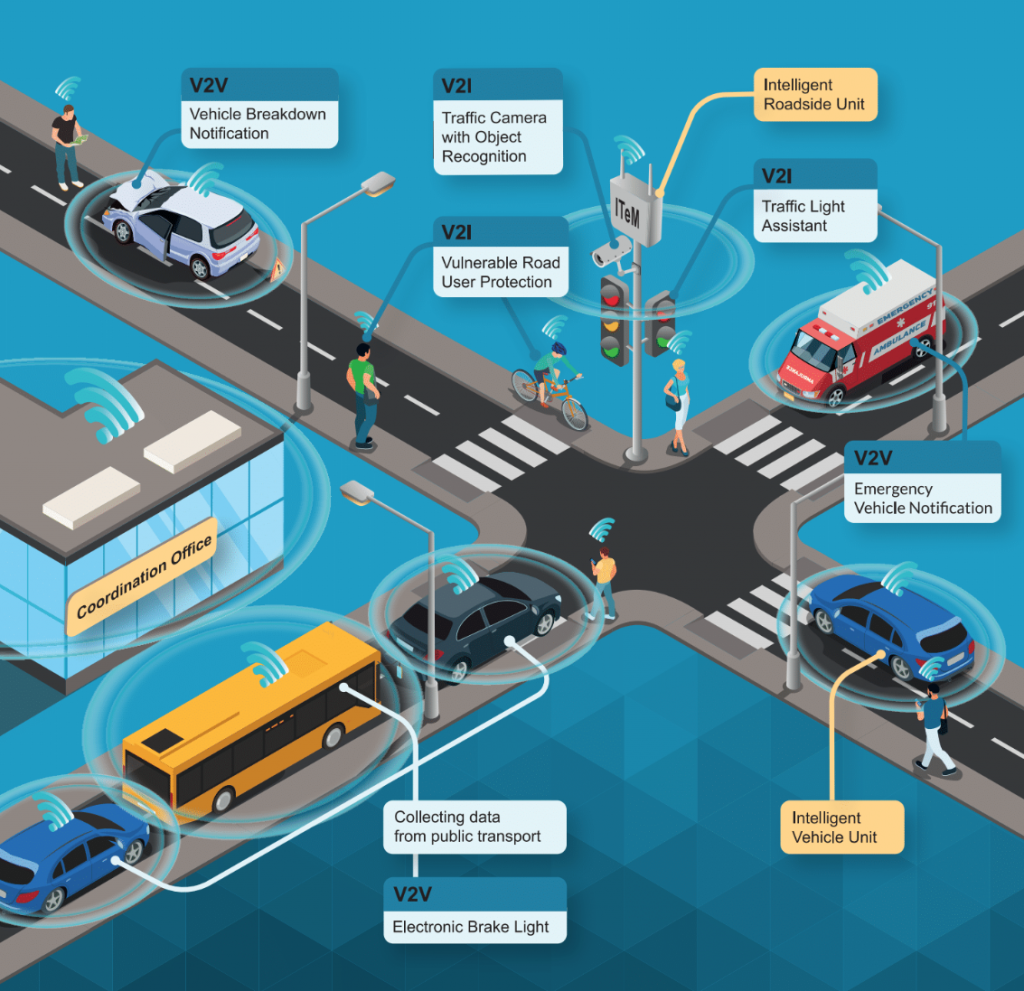 ITS Research Group (FGVT) of the Saarland University of Applied Sciences – htw saar is characterized by its vast expertise in telematics and interdisciplinary competence in the field of mobility.
This website provides detailed information about ITeM and Intelligent Mobility in general. If you have questions or are interested in cooperation, feel free to contact us!
We invite you to take part in the current studies in the Participate section.
An Open Testfield Day (TdoT) takes place every two years. TdoT visitors have the opportunity to learn about applied research and development in the field of Intelligent Mobility and to experience the advantages of connected driving live during a test drive. In the Gallery, you can find pictures of the previous TdoT and other events.
News and Events
August 2020: Fabien Coulet (FGVT htw saar) and Dr.-Ing. Maciej Muehleisen (Ericsson) are carrying out tests on the Digital Motorway Test Bed A9 Ingolstadt-Nürnberg in the framework of 5GCroCo research project.
June 2020: The next Open Testfield Day will take place in 2022 instead of 2021.
Tweets by ITS_testfield
Participate
There are no ongoing surveys at the moment.